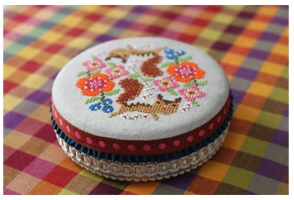 Gera(Kyoko Maruoka)/Tokyo JAPAN クロスステッチ図案のデザインをしたり絵を描いたりしています。 WEB→http://www008.upp.so-net.ne.jp/gera/  図案の商用利用、画像の無断転載を固く禁じます。

by geratkb
Dear International Customers
Dear International Customers:
Thank you very much for visiting my site.
I am pleased to inform you that file download service(PDF) for Gera's designs is starting at '
Creative Poppy
'.
I have been designing cross stitch patterns for 9 years.
It would be my great pleasure that my designs are enjoyed by not only Japanese stitchers but also by foreign stitchers.
You can download PDF files of my patterns in English/French at 'Creative Poppy'.
Please visit →
Creative Poppy and Gera! are adding more and more patterns in future!
Happy Stitching!
Kyoko Maruoka@Gera!